Affidavit of Small Estate
Affidavit For Transfer of Personal Property Worth $150,000 or Less
If you have the legal right to inherit personal property, like money in a bank account or stocks, and the entire estate is worth $150,000 or less, you may not have to go to court. There is a simplified process you can use to transfer the property to your name.
NOTE: This process is not for real property, like a house.
Figuring out if the estate is worth $150,000 or less
To calculate the value of the estate:
Include:
All real and personal property.
All life insurance or retirement benefits that will be paid to the estate (but not any insurance or retirement benefits designated to be paid to some other person).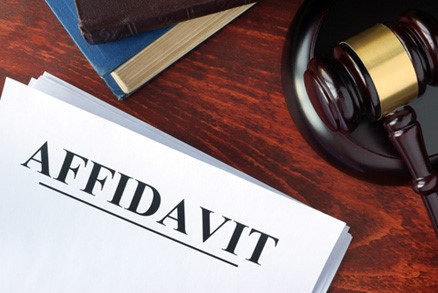 Figuring Out if You Have the Legal Right to Inherit the Property
You can use the affidavit process if you have the legal right to inherit property from the person who died.
You must be a beneficiary in the person's will or an heir if the person died without a will. Other people may qualify too, like the guardian or conservator of the estate.
It can be very complicated to figure out if you have the legal right to inherit the property. If there is no valid will, the law says how to determine if someone is a legal "heir" by looking at the type of property, the relationship between all the persons claiming to be heirs, and other issues.
Using the Affidavit to Transfer Personal Property
Once you know the value of the property is $150,000 or less and you personally qualify to use the affidavit process, follow these instructions. But keep in mind you must wait at least 40 days after the person dies to transfer the personal property. And, remember, you cannot use this affidavit process to transfer real property like land or buildings.
Disclaimer
We are not attorneys. We can only provide self-help services at your specific direction. DP Legal Solutions is not a law firm, and cannot represent customers, select legal forms, or give legal or tax advice. Services are provided at customers' request and are not substitute for advice of a lawyer. Because legal needs vary from individual to individual, you should seek the advice of trained professionals if you have any questions regarding your particular legal matters. Prices ALWAYS do not include court costs.
DP Legal Solutions
2016 Lewelling Blvd
San Leandro , CA 94579
Mon to Fri : 9:30am to 5:30pm
Saturday : 10:00am to 4:00pm
Sunday: Closed
Phone : (510)-346-5686
Fax : (925)-459-6789